We had been traveling for several months before crossing into Mexico, but this felt like we were really starting our adventure.  English would no longer be the primary language; food, infrastructure, and navigating daily life would all be different. 
We spent 3 days at Sweet Water Regional Park Campground in San Diego, making our last minute preparations. We spent hours and lots of money in a FedEx office to photocopy all the important documents and to make duplicates of our driver licences. Next, we got some spare parts Okan wanted for our truck, now renamed "Machete," and filled our fridge with Trader Joe's groceries. A little bit of Mochi Ice cream to stave off homesickness should it creep in 🙂
We were also listening the latest news closely and constantly.  The Mexican government had just eliminated the subsidies for petrol products resulting in a 25% increase on fuel prices.  This resulted in massive protests all over Mexico. Just two days before we planned to cross the busiest border in the world, the Tijuana crossing was closed down and traffic was re-directed to neighbouring border crossings.
The morning of January 10th, we woke early and anxious to get going.  No way were we going to set up camp at night our first day in Mexico!  After filling our water tank, diesel tank, and our two 5 gallon diesel jerry cans, we headed to the Mexican border. The Tijuana crossing was open, so we followed the fast-moving south bound traffic right into divided lanes as we went under a "Bienvenidos" sign.  A Mexican border agent signalled us to get out of the fast-moving lanes, and follow her to the left side of the border area to a giant X-Ray machine (1). We were told to park the truck and walk to a protected area. The agents were very polite and professional.  After our truck and camper got scanned by the X-Ray machine, we pulled into a small parking area (2) and were asked to provide our car registration, car insurance, and passports. A junior looking border agent looked a little confused about our Canadian ICBC papers with USA Passports, and asked where our DMV papers were. Okan explained that we are from Vancouver, Canada and the ICBC document was the only registration paper we had. She called her superior and after five minutes, we were told we were good to go. At this point, we could have just continued driving south to Baja, but we still had to get our FFMs (Tourist Card) stamped.
Tijuana, USA/Mexico Southbound Border Crossing
10 days prior to crossing Okan became a member of Discover Baja Travel Club ($39/year) which is the only institution that can issue an FFM in advance (but they still need to be stamped by a border agent!)  The application process was pretty easy, download the form, then fax or email the completed form back to Discover Baja along with payment information ($35/person). We received the FFMs back as a PDF along with bank receipts via email in two days.
To get our FFMs stamped, we had to get to the opposite side of the border crossing area.  This meant we had to cross the fast-moving lanes of traffic and dodge folks anxious to escape the USA. There is a place to park near the bus parking (3), and we walked (dotted line) through one large building to get to the small office.  It probably would have taken us a little longer to find the office, were we not greeted by a young volunteer who asked in perfect english what we needed, and directed us to the directly to the right office (4).  The border agent inside the office was also super polite and smiling, and stamped our papers. We just needed to jump back in the truck and leave, that was all there was to it.  The whole process took only 30 minutes. There are two ATM machines (5) right next to the border agents office. Okan got some Mexican pesos and we were on our way to Ensenada. 
In true Driven To Wander style, we took multiple wrong turns immediately upon leaving the border crossing.  It still amazes me with the research we do before we drive, the Garmin on the windshield, Google Maps on the iPad mounted on the dash, audio navigation that automatically lowers the radio when prompting the next turn, plus me pointing wildly "go this way"….that we get lost so often.  I would love to take on a section of our trip, with no electronics and just the paper map and reading road signs.  We'd probably see a lot more of the surrounding area if we stared more outside the windshield than inside the car. 
Because of all the wrong turns, Okan and I were getting very stressed, especially when we got into a sketchy neighbourhood. We finally approached a toll-booth and tried to quickly sort out which toll rate was for us.  The toll booth operator was so kind, relaxed, and personable, that Okan said the conversation immediately made his stress level dissipate.  It seemed that no matter what was to happen, Mexico was going to be filled with kind people helping us along the way.
Taco De Pollo, Ensenada, Mexico – January 2017
We managed to find our way to Ensenada, park in town, and get our first Mexican taco de pollo…Success!  Now fed, we were off to find a campsite south of town.
We pulled up to the first campsite chosen on iOverlander, only to realize it was on a cliff overlooking the ocean.  I had been telling Indigo we'd be heading to the beach for days, and aside from that I was worried he'd fall off the cliff.  So we headed back down the mountain, and pulled into the first RV camp at sea level we found, because as you may have guessed if you've been reading our other blogs…it was getting late and would soon be dusk, if not dark.
First Campground, Ensenada, Mexico – January 2017
First Campground, Ensenada, Mexico – January 2017
The campsite was empty except one other truck camper, a bit outdated and worn, but had decent bathrooms, felt safe, had beach access, and a market next door.  The bad weather continued to follow us into Mexico, so we walked to the ocean upon arriving to take a peek with no intention of getting wet in the early evening. Our first look at the ocean turned into first kicking off the shoes, then rolling up the pants, and then going whole hog. Indigo stripped out of his clothes bit by bit while playing, until he was naked.  After several hours of play we took our shivering naked boy back to the camper to warm up.
Running into the waves, Ensenada, Mexico – January 2017
Low Tide, Ensenada, Mexico – January 2017
On our second day, we had a similar beach experience, never meaning to really get in, but Indigo stripping down and jumping in anyway. I had a proud mom-moments at this campsite by getting out the art supplies, and watching Indigo use pieces of plants and shells to create art. I am still navigating what works best in regards to crayons, markers, paints, or colored pencils.  But the glue sticks rock, and are a staple in our art supplies now.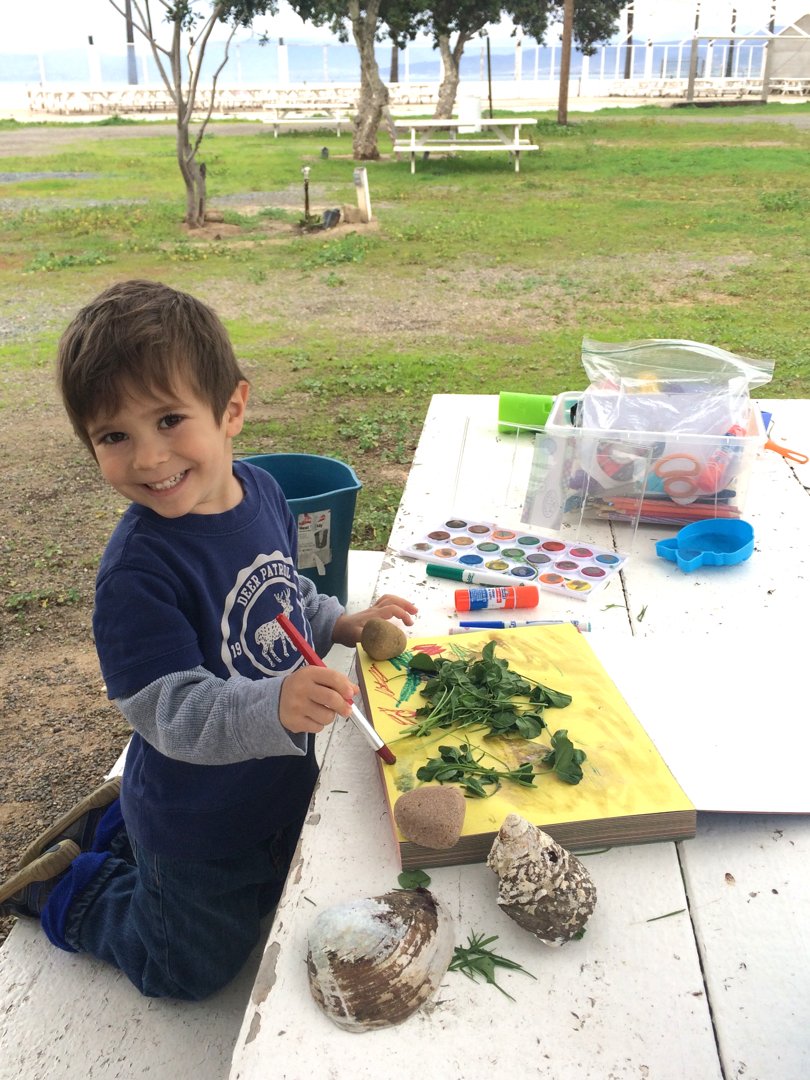 Indigo's Nature Art, Ensenada – January 2017
We frequented the small market outside the campground several times.  No english was spoken, but smiles and gestures, and Okan's limited Spanish was all that was needed to sort out the wifi, and buy some groceries.  And the first of many candies were offered to Indigo as he chatters away in English, not really seeming to care that his words are not being understood.  When he has something to say, he just can't hold back.
Sea Shell, Ensenada – January 2017
Okan picked the first of what would become a growing seashell collection from the Ensenada beach.  So far the collection is manageable in the camper, but only time will tell.