We wanted to see Okan's parents before taking off on our big adventure.  We were due for a visit, and they needed some help settling into their house near the town of Datça on the Mediterranean Sea.  We also looked forward to some time spent by the sea while the weather would still be nice.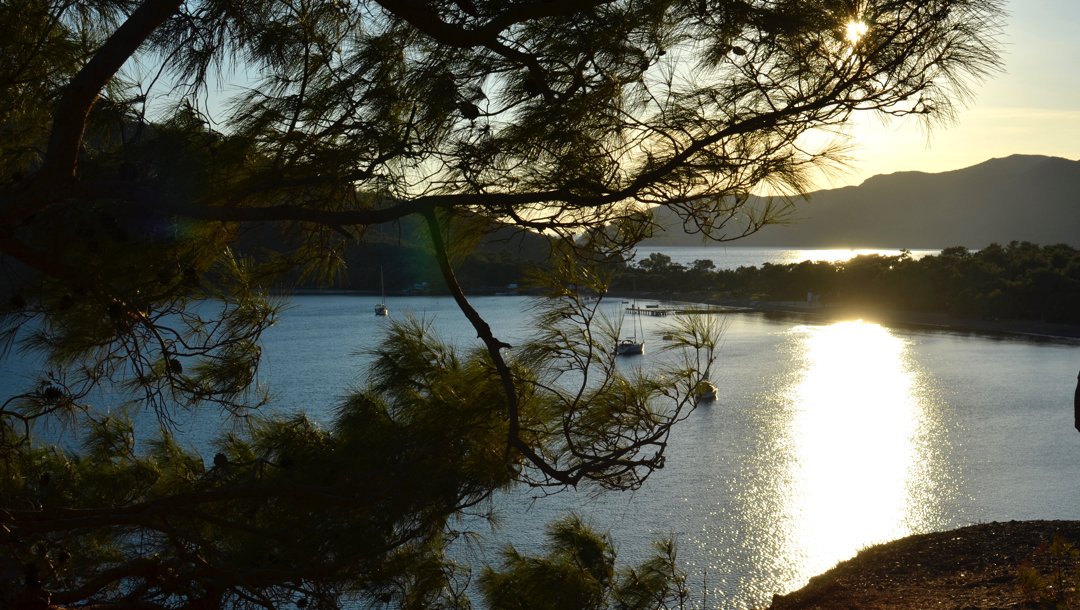 It can be quite nice to visit your in-laws when they live in one of the most beautiful places in Turkey.  The Datça peninsula has high mountains that cut into the Mediterranean sea like many other areas along the coast, but Datça is different because it's not built up like nearby Bodrum and Marmaris. This is most likely due to its exceptionally curvy roads and distance from airports. The peninsula has many coves, bays, and beaches and you can find sandy or rocky beaches all with beautiful turquoise waters.
The ancient Greeks believed Datça to have been created personally by Zeus, and we can see why.  Remnants of the Karians (who settled there in 5400BC) and the cultures of Lydia, Persia, and the Byzantine and Ottoman empires, are scattered everywhere. There are church ruins, ancient cisterns and tombstones.  Then there is a 235-mile coastline dotted with sleepy villages and beautiful landscapes.  Most of the waters are shallow for some distance offshore, making almost every beach or cove was safe for taking Indigo in the water.
We met up with Okan's cousins from Germany who were staying nearby and decided to tour Knidos, the ancient Greek ruins at the tip of the Datça peninsula, together. Unfortunately, the wind was so strong, we were almost blown off the ruins in some areas, which made seeing all of the grounds impossible.  Despite the wind, we still enjoyed being with family and taking a step back into history.  Knidos was once an ancient harbour and shipping stronghold from the 4th century BC. It was a gathering place for astronomers, medics and architects. Its most famous poster girl, though, was its nude Aphrodite statue, which seemed to have had a cult following. Some believe that many of these intellectuals came just to admire it.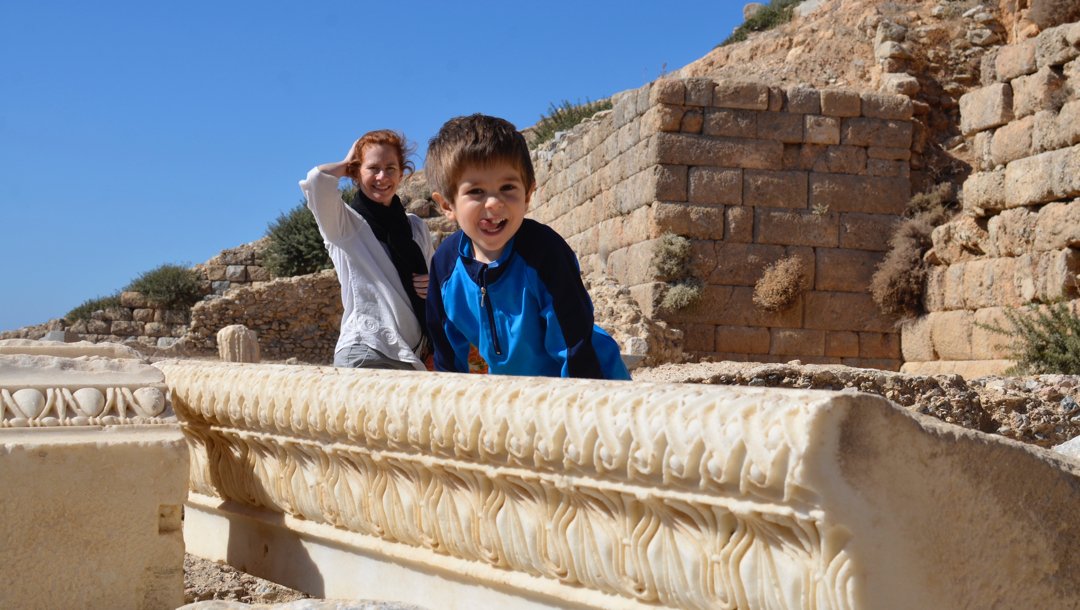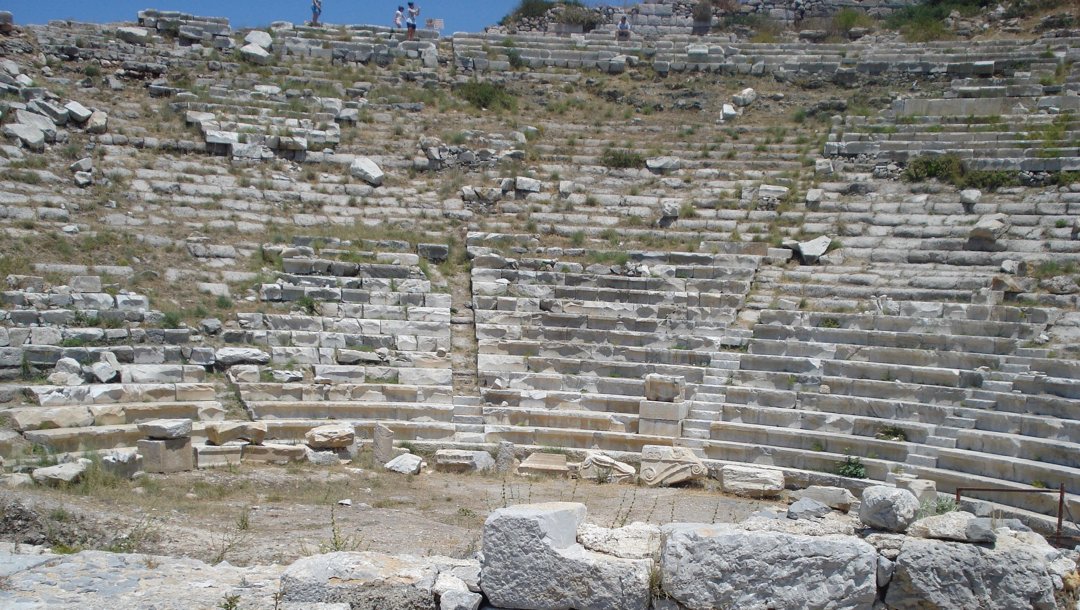 The remains at Knidos included basilica arches, floor mosaics and a grand sea-facing theatre. The drive there follows the backbone of the peninsula, passing forested hills and winds … a lot of winding… through many gorges and small villages. Knidos must have been a fantastic back in its day: a marble city with terraces descending to the sea, full of temples, and home to 70,000 people. The site is normally empty now, with just a handful of people.  But there is an old-fashioned restaurant serving meze, fish and koftes and is next to a small beach, which let us return home well fed and refreshed from a quick dip in the water.  And now we will forever measure windy days by asking "was it Knidos windy?".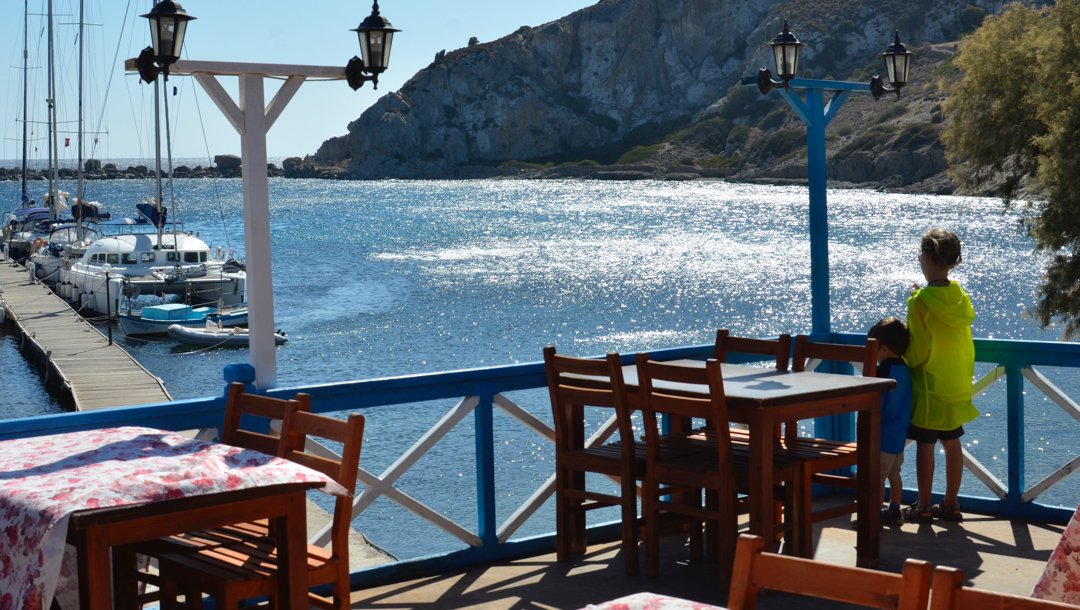 Overall, leisure time was rather scarce while we were in Turkey, as there was more work at Okan's parents' house than we imagined. They live on the side of a cliff, in a small village, with a maze of stone stairs, and half-completed construction projects, to reach their door.   We had much work to do.
Hardware stores in Datca are nothing like the clean and organized Home Depots back home. If you've ever watched the show Sanford & Son, then you have a small idea of what being in a hardware store in Datca is like.  It feels more like wandering through a piles of junk, then rows of supplies. Piles of plumbing parts, hardware fittings, and what-not.  But we figured it out, and bought materials for railings, and lots of cement, and floor tiles. We also sorted out where and how to dispose of the various kinds of construction and landscaping debris in a world with no curb-side pickup.  Indigo also got in on the construction action, and he worked at his own workbench where he taught himself (with some minor adult supervision) how to hammer rusty nails into warped boards using blocks of wood.  In the end, I'm quite proud of the new porch we created and the clear and safe pathway to the front door; and our backs are stronger for the experience.
When we made the decision to take a couple days for ourselves, we made haste to get to Cappadocia.  Cappadocia is someplace I always wanted to see and Okan had surprisingly never visited while he lived there.  I was hesitant to push for the trip, as we were so tired and the weather was getting really cold, we really thought we should just forget it.  I am so glad we pushed through our hesitation and fatigue and went, it was wonderful.  We stayed in a great hotel carved into the rock formations.  Our first room was amazingly intricately carved and cozy, but a bit too cozy… there were no windows.  Thanks to the cold weather, more rooms were available, and we were upgraded to a larger room that had a couple of small windows.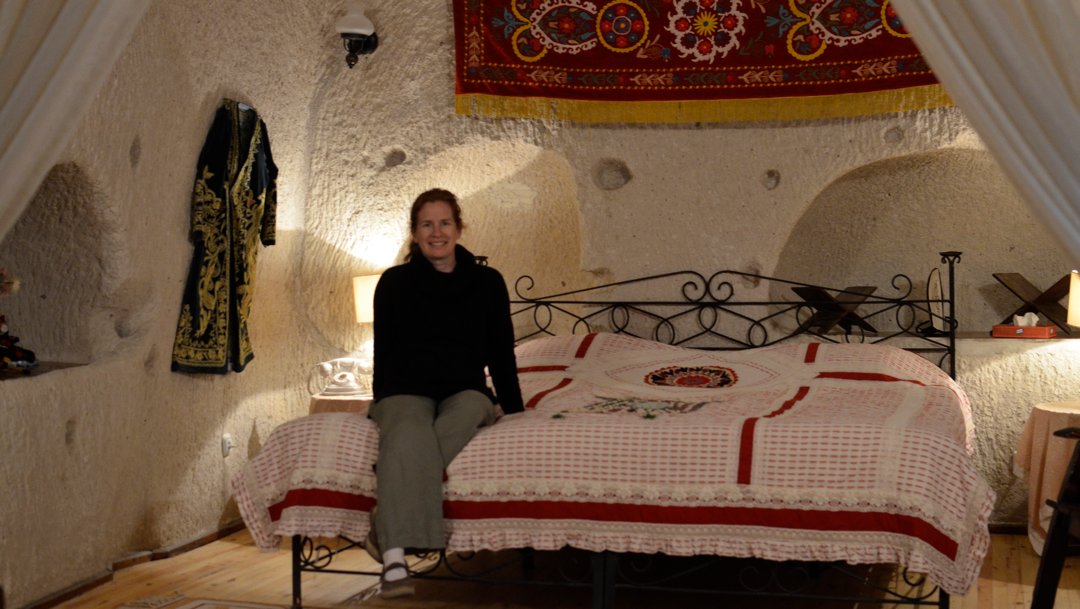 Food was wonderful, and views were even better.  About a hundred hot air balloons over our heads in a spectacular sunrise was not to be missed.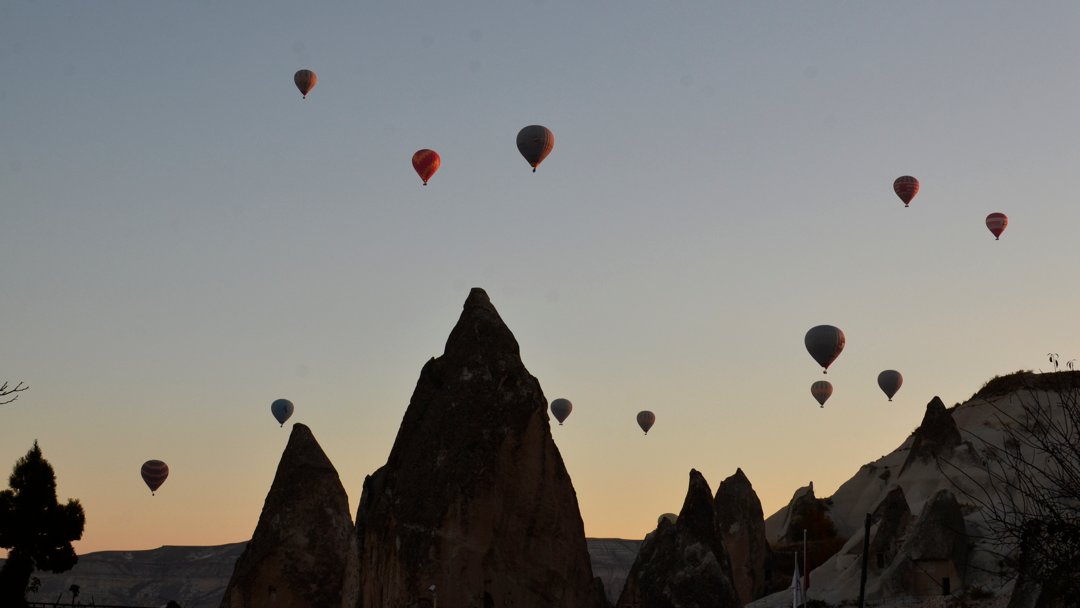 An unexpected treat was our visit to the underground city of Derinkuyu which is the deepest of the discovered underground cities with eight floors – reaching depths of 280 feet (85m). The stairs descended lower and lower through tight stairways that were strategically carved to be insanely narrow to force would-be invaders to crawl single-file. Sometimes we'd go a hundred steps in these narrow passages before coming out into any type of cavern.  Indigo was a trooper, not scared at all, while Okan and I had to take some very very deep breaths at the thought of descending further into the passageways.
We were taking what we believed to be the most amazing photos during the tour, only to discover that we didn't have the memory card in our camera, so we will leave you with someone else's photos.  More great photos that we didn't take of Derinkuyu can be found here. These were taken by Jil and Aram, another Bay Area couple with good taste in places to visit.
Another side trip from Cappadocia, and another wonderful day, was spent in the Ihlara Valley.  While driving through what looked like mile after mile of arid landscape with only a smattering of habitants along the way, we found the tiny parking lot in what seemed like the middle of nowhere, and made our way to the entrance gate.  What lay in front of us was a massive decent down a staircase into a beautiful green oasis of dirt trails and creeks lying deep below the edge of the canyon.
But best of all was the rich history in the valley.  We entered dozens of churches and mosques built into the canyon's rock walls, many of which still held a great deal of detail and paintings.  They were literally every one or two hundred yards as we walked along the trail.  It is a unique feeling to stand among the creations of some of the oldest civilizations in the world.
We were very tired from the hike and about to turn around, when I saw a sign for a tea house along the trail.  Okan wanted to head back, but I was dying for a rest before climb up the stairs out of the valley.  So we pushed onward to the cafe.  We came upon a lovely tea house, with seating areas built upon the water and had the best cup of turkish tea I can recall, as well as yummy gozleme. We also had a great time helping Indigo feed the ducks that swam right up to our table looking for hand outs.  It was one of our best days in Turkey.
On our drive back to Datca, we revisited some of the places we went on our honeymoon.  A little different experience this time with Indigo.
Tours of ruins took much longer as playing on top of and around ruins was now on the itinerary.   Those quiet little restaurants we had frequented, were not so quiet anymore. But sitting on the stone beach of Cirali for hours, and taking the boat ride to the ocean in Dalyan was enjoyable for all of us.
We stopped in Fethiye before trying to find the white sand beach that is noted in every tourist book one can find about Turkey.  We didn't make it there on our honeymoon because we ran out of time.  I was very bummed about that and wanted to make sure that didn't happen again.  But instead of finding the elusive white-sand beach, we found some treacherous roads, that led us to some rather beautiful coves on a misty, raining day.  Seems Okan was thinking of some other more secluded white-sand beach, and was whole-heartedly trying to find it for me. Maybe next year…
We were so fearful of how the flight back to the States would go, as our trip to Turkey was quite possibly the worst travel experience Okan and I have had together.  On the way to Turkey, we got into the long immigration line after a long flight, with Indigo already crying from exhaustion, only to realize when it was our turn, we forgot to get our visas. They let me and Indigo wait off to the side while Okan ran to the Visa desk, from where he and the entire airport could hear Indigo screaming "Daddy" for the entire 30 minutes it took Okan to get the Visas and return to Immigration. And we still had another flight, and then 3 more hours of road travel ahead of us!  But coming back to the states, we didn't have to wait through any lines at all (thank you GOES/NEXUS membership…once again!), and we were in good shape when we got to my sister's house where we had much more family to visit before heading hitting the road again.