Firestone Ride-Ride Air Bag Suspension Kit, model 2299 for Dodge Ram 3500, comes with everything I needed to complete the project under couple hours. Instructions are pretty clear and it is a fairly easy install. It requires no drilling, it does not alter truck's original suspension and the warranty stays intact.  Please refer to Firestone's install manual for safety precautions.  Pictures below are showing driver side install. Here are step by step instructions:
1.  Remove the jounce bumper from the truck using 15 mm sucked wrench.
---
2.  Lower bracket has a wide side and a narrow side. Orient the wider side towards leaf spring for diesel Ram 3500.
---
3.  Using 3/8″-16 x 3/4″ flange head bolt, install the air spring to the lower bracket. Finger tight.
---
4.  Install the male air fitting into the air inlet. I am using Orange Teflon Tape.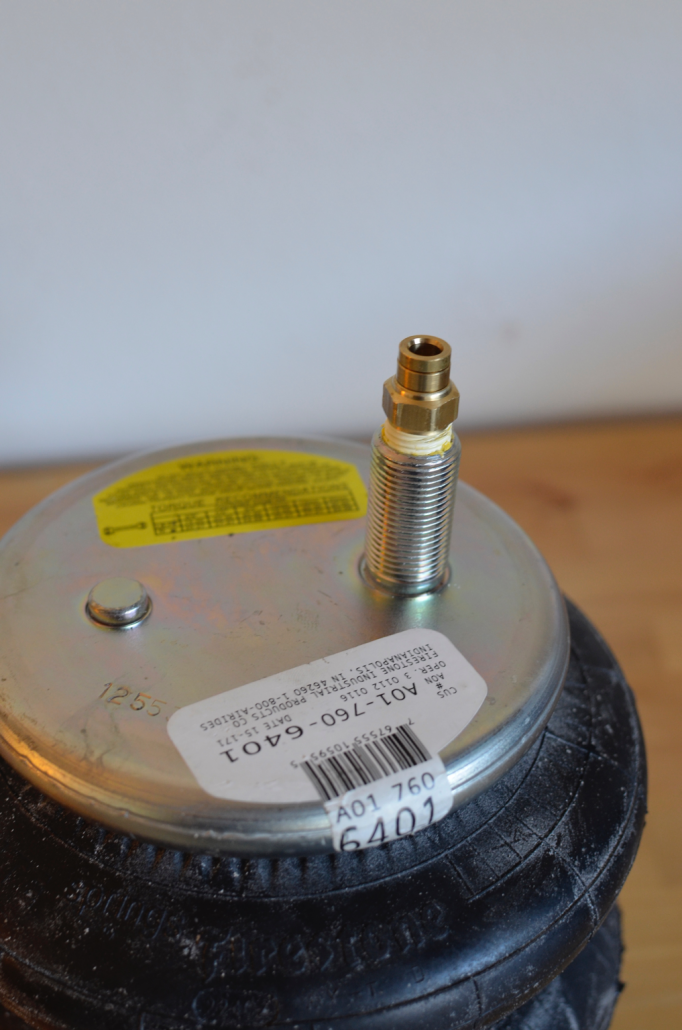 ---
5.  Attach the brace to the upper bracket using the upper set of holes that are marked "4WD" using four 3/8″-16 x 1″ hex head bolts and four 3/8″-16 flange lock nuts.
---
 6.  Install the upper bracket to the frame using two 10 mm x 30 mm flat head bolts.
---
7.  Position the lower bracket and air spring assembly from STEP 3 on the axle.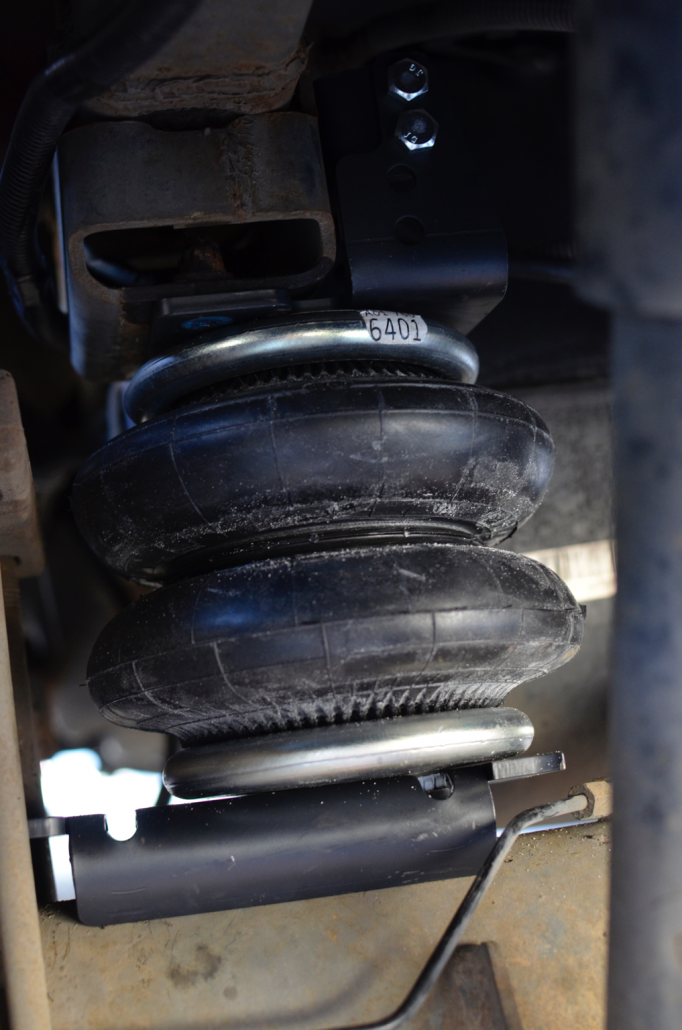 ---
8.  Put the large threaded stud through the large hole on the upper bracket and the locating pin of the air spring in the small hole on the upper bracket as shown in Figure "A". Make sure the alingment pin is in the locating hole before fasting air spring to the upper bracket. Fasten the air spring to the upper bracket using ¾"-16 hex head nut and ¾" star washer.
---
9.  Fasten the lower bracket to the axle housing using the bail clamp and the axle clamp bracket and two 3/8″-16 locking flange nuts securely. Once the lower bracket orientation has been set, tighten the 3/8″-16 x ¾" flange bolt that was installed in STEP 3.
---
10.  Reverse the orientation for assembly and repeat the steps for passenger's side install.
I will be connecting the Firestone Ride-Ride Air Bags to my on-board  2.5 Gallon Viair Air Tank with Firestone 3145 Air-Rite Dual Cab Control Kit in the next project.
---
---
Project Difficulty Rating     Easy Medium Hard
---
Project Shopping List
---
Required Tools
[/av_textblock]